01 Apr

Easter Lamb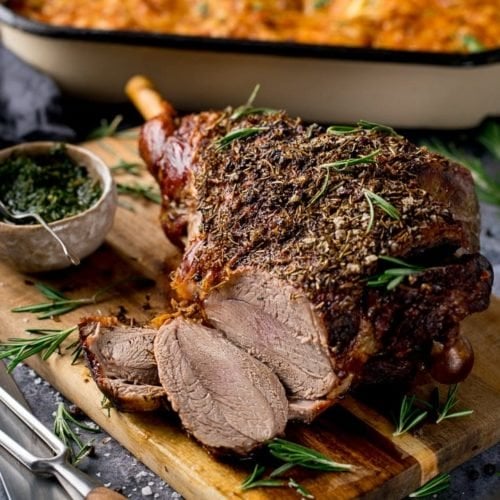 This Easter enjoy a delicious traditional lamb dish with our recipe which includes a garlic and watercress butter.
What you'll need;
2kg bone-in leg of lamb
100g watercress
3 large garlic cloves
4 anchovy fillets in oil
70g unsalted butter
3 rosemary sprigs
100g sourdough bread
½ tbsp olive oil
30g finely grated parmesan
What you'll need to do;
To prep your; an hour before cooking take the lamb out of the fridge. Heat the oven to 200C/180C fan/gas 4. Crush the garlic. Drain and finely chop the anchovy. Soften the butter. Tear the sourdough.
Take the lamb and using the tip of a knife make 20-25 small slits in it, then place in a roasting tin.
Add watercress, garlic and anchovies to a food processor and blitz until smooth, then add the butter and pulse to combine.
Season the lamb, then spread half of the butter mixture over it making sure you're pushing it into the slits. Break up the rosemary sprigs and tuck them into the slits also. Season, cover with foil and for medium cook for 1 hr 20 mins (a thermometer should read 55C), for well done cook for 1 hr 40 mins. Halfway through cooking, uncover and spread the remaining butter over the lamb, leave the cover off and return to the oven.
Add sourdough to a food processor and blitz until you have in coarse crumbs. Toss the crumbs with the oil and parmesan and spread out flat on a baking sheet. 20 minutes before the lamb will be ready, put the crumb in the oven underneath, you will know it's ready when it's lightly golden and crunchy.
When you remove the lamb from the over, recover it and leave for 30 mins then slice and sprinkle with crumbs.
If we've inspired you to get in your kitchen and cook this Easter weekend then why not book one of of virtual cooking lessons where we can teach you to make many more interesting dishes! To book your lesson contact us today.