14 Jul

A cooling treat in the heat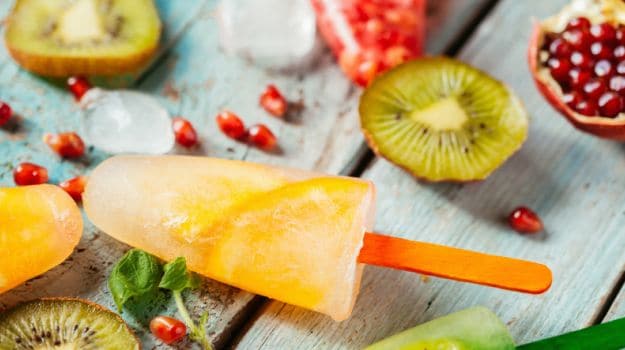 If you're anything like us we're sure you've been loving the hot weather but even those of us who love it need a relief from it too! This week we're sharing with you one of our favourite ways to stay cool in the heat, with our cocktail lolly ice recipes.
A heatwave is good reason for anyone to celebrate but to stay chilled during these stifling climates don't just put your favourite drink on ice, make it into a lolly ice! We've picked two of the most popular cocktails to share with you in lolly ice form, gin and tonic and mojito. So here's how to make cocktail lolly ices!
Gin and Tonic Lolly Ices
What you'll need;
Cucumber
Mint leaves
75ml gin
250ml tonic
50g caster sugar
What you'll need to do;
This recipe makes 6 lolly ices but you can adapt it to make more or less depending on the size of your ice lolly mould.
First you want to cut slices of cucumber, one to go in each mould, you also want to add a mint leaf to each mould too.
Take the remaining ingredients and mix them in a jug. You want to mix until the sugar has dissolved and the tonic has lost it's fizz.
Once mixed divide between the moulds, add a lolly ice stick and freeze for 4 hours.
Mojito
What you'll need;
100ml water
100g caster sugar
Mint leaves
6-7 limes
50ml white rum
300ml soda water
This recipe makes up to 8 lolly ices but again you can adapt it based on the number of moulds you have.
Add the water to a small saucepan and bring to the boil. Once boiled remove from the heat add the sugar and stir until dissolved. Take around half a handful of mint leaves and tear them up and add to the mixture, return it to the heat and simmer for 5 minutes then leave to infuse for 30 minutes.
Once cooled pour the mixture through a sieve into a jug, squash the mint leaves with the back of a spoon as you do this to squeeze out all the juices. Juice around 5 to 6 limes so you have 150ml of lime juice, add 125ml of this to the mixture. Zest another two limes and add this to the mixture. Lastly add the rum and mix it all together. Top up the mixture with soda water so that there is 600ml of the mixture all together. Taste and add the remaining lime juice if needed.
Pour the mixture into your moulds and add lolly ice sticks then freeze for 8 hours.
If you'd be interested in learning more summer recipes then why not get in touch to organize a bespoke cooking lesson with us?