01 Nov

The Perfect Winter Supper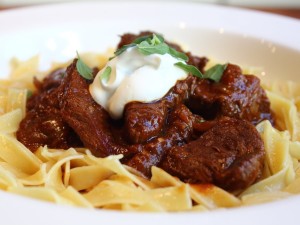 Now that the clocks have gone back we all need something to brighten those dark winter nights and Chef's Compliments has the perfect recommendation as an addition to do just that! This week we're sharing with you our Pig's Cheek Goulash Ragu with Pappardelle recipe which is sure to perk you up just when you need it at this time of year.
This is the perfect remedy to stay cosy inside and with Goulash you're getting a real hearty dish not to be served as a starter but as the main event!
Goulash originates from medieval Hungary and is now considered a symbol of the country but it's delish recipe has ensured it has become a favourite on dinner tables beyond the country of its origin.
Often made with beef, our recipe offers you something a bit different with slow cooked pig's cheek taking centre stage. If you're planning on preparing this dish then be sure to ask your butcher for pig's cheek in advance as they may need a bit of notice.
We're sure you're salivating already so without further or do here's what you'll need and what you'll need to do to make our Pig's Cheek Goulash!
What you'll need;
2 table spoons of olive oil
4 large pig cheeks, these should weigh around 600g
8 mini cooking chorizos
1 onion
4 red peppers
4 cloves of garlic
1 table spoon of sweet smoked paprika
¼ teaspoon of cayenne pepper
175ml of white wine
400g of tinned cherry tomatoes
½ of a small bunch of flat-leaf parsley
pappardelle and soured cream to serve
What you'll need to do;
First get the oven ready, heat it to 160C/fan 140C/gas 3.
Make sure the cheeks are well seasoned and halve the chorizo.
Add the oil to a casserole dish and warm up. Over a medium-high heat fry the cheeks for 3 to 4 minutes on each side. Once caramelised, remove from the pan to a plate. Next cook the chorizo in the same dish for 2 minutes. When you notice the oil turn red and the chorizo become crisp you will know it's ready. Again, remove the chorizo from the pan to a plate.
Finely slice the onion, the peppers and the garlic.
The onion and peppers are now ready to be added to the casserole dish, add lots of seasoning and cook for 10 to 15 minutes. When you notice them begin to char and soften, you can turn the heat down. Next to be added is the garlic along with the paprika and cayenne, cook for a few minutes. Add the white wine, bring to a simmer. Then add the tomatoes, 250ml of water and bring back the cheeks and chorizo, again, bring to a simmer. Cover with the lid and put the dish in the oven for 1 and a half hours.
After 1 and a half hours in the oven, remove this dish from the oven to give it a stir and then return to the over for another hour. You want the sauce to reduce and for the pork to become very soft so that it can be shredded into the sauce.
Whilst the dish is in the oven, chop the parsley and stir it through once the dish is ready.
Serve with pappardelle and soured cream.
So there you have it, The Perfect Winter Supper!
If you'd be interested in learning more great winter dishes then why not book one of our virtual cooking lessons? Contact us today to find out more.